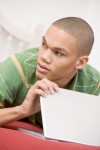 Cyber safety is an understandable concern for most parents. We have  drummed into our kids the dangers of talking to strangers online, although it still happens. And there has been a lot of attention given to the serious issue of cyber-bullying, although it still happens. We now need to focus on educating our children about their cyber footprint. How can we get our kids to think about the long term consequences when they are notoriously bad at considering the future?
As always, parents need to know their children when trying to make a point. It's no use warning your children not to make a goose of themselves online because their teachers may see, if they are not concerned about their teachers' opinions. And many children have no idea what they want to do after school, so talking about future employers seeing their facebook page will not be effective.
What will make them stop and listen is if you tap into their interests and use these subjects when issuing your warnings. Let's look at some examples:
If your teenage son is mad about football and dreams of playing for the Sydney Swans, Brisbane Broncos or Central Coast Mariners, use that passion to point out that if he were to get the chance to try out for a coaching squad, the selectors may well look at his online footprint to see if he is good for the game.
If your child is dreaming of becoming an actor and wants to audition for one of the performing arts programs, make it very clear that their cyber history may prevent them being considered for a place.
If your teenager is starting to have relationships and seems very focused on finding a great boy or girl, gently point out that a potential boyfriend or girlfriend would most definitely look at their online presence, and just as significantly, so might his or her parents.
Most parents are worried about what their children are up to online and are doing all they can to educate their kids on cyber safety. We just need to remember that unless we are appealing to our children's interests and passions, our warnings will fall on deaf ears.