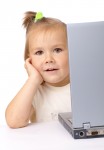 It's NAPLAN time again. That time of year when Australian school children are tested to see how they are performing relative to their peers. There are clear signs that this year, the pressure seems to be even greater than ever. A workbook for year 3 students preparing for NAPLAN has hit the best seller list. As an author of five non best selling books, that's going to make me sit up and listen. For the first time in my memory, advertisers used the upcoming NAPLAN tests to promote fish oil supplements and stuffed toys. Some preschools are adopting programs to fast track toddlers' education and packages containing educational videos and flashcards are being sold to parents of children as young as 3 months to facilitate early learning.
Why?  Where are these children rushing to? There doesn't seem to be any evidence to support the notion that children who learn to read at a very early age end up in the best jobs. Nor is there clear support for the idea that children who do very well in tests such as NAPLAN blitz their final exams and fly through university into well-paying and fulfilling careers.  Are we fearful that our kids will not be able to put food on their tables when they are adults unless they enjoy amazing success at an early age? Are we worrying that they will not be able to live independently if their NAPLAN results in year 3 are not fabulous? Or are we measuring our parenting success on how well our children do at school?
What messages are we sending our kids if all the focus is on achievement? Why aren't we trying to help them find their passion? What happened to giving our children a rich and nurturing childhood? Achievement does not guarantee true happiness. Happiness is linked to a real sense of meaning that can only come from the intimacy, compassion and altruism that occurs in human relationships. Let's all get a grip and instead of teaching our children how to ace their NAPLAN tests, let's teach them the truly important life lessons such as how to help those in need.