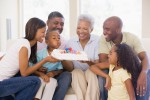 It should come as no surprise that many people have relationship difficulties with their in-laws. Why should the families of the two people who have decided to spend their life together necessarily get on? Sometimes, it seems that all you have in common is the couple themselves. Although there are many extended families who get on famously, some people really struggle with their partner's parents or siblings.
Here's an excerpt from a recent email:  I have a mother-in-law whom I find competitive, controlling and a poor communicator. I am over-sensitive around her and it causes many arguments in my relationship. I love how the author of this email owned her problem ("whom I find competitive, etc…. I am over-sensitive etc"). It's a great start to be able to acknowledge your own role in any issue.
Once we accept that problems with in-laws are understandable, there are some strategies that can make the relationships run a little more smoothly:
Have empathy for your in-laws – If your mother-in-law is competitive and controlling, perhaps she is struggling with another woman being her son's priority. Maybe she had trouble with her own mother-in-law and so does not know how to deal with the current situation. Or perhaps she is unhappy or unfulfilled or lonely and wants to feel needed.
Find some common ground that is not your partner – If you take the time, you will usually find something you both have in common. A love of reading, TED talks, movies, teapots, dogs, cooking, poetry – anything that you can safely discuss without any argument.
Encourage your partner to spend time with his or her family – Most families love the chance to have some time without any of the partners. Childhood memories can be shared, in-jokes are left unexplained, and best behaviour can be made a lower priority. Parents can respond particularly well with time spent with their treasured adult son or daughter.
Don't stretch the friendship with too much babysitting – Many couples rely on grandparents for a lot of the child minding. The more you use your mother-in-law for babysitting, the more input/advice you should expect from her when it comes to raising your children. It would be very hard for any grandparent to spend a lot of time with their grandchildren and not have views on how they are being brought up. If the grandparents do babysit a lot, make sure they also spend time with your family when they are simply guests in your house.
Ask for advice – Even if you don't agree with what's said, relationships with in-laws can be vastly improved if you regularly ask for their opinions.
Don't make your partner the meat in the sandwich – It can be hard to hold your tongue at times, but constantly running your in-law down to your partner will only cause problems between you. Vent to your friends instead and remember that your in-laws must have done something right – they raised your partner!