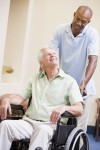 When we need help, we usually steer clear of those who are in obvious need themselves. If we lose a loved one for example, we don't want to burden a friend who is also grieving. If we need someone to take us to a medical appointment, the last person we'd ask is the friend who is dealing with a chronic illness or caring for someone with a chronic illness. People who are clearly struggling are left out of car pool rosters, but their children are never without a lift.
But this attitude may actually be having the opposite effect to what we'd hoped. The clients I see don't want to be left alone. They don't want to be spared their turn at school pick up or party drop off. They want to help others. If they are grieving, they don't want everyone to give them a wide berth. Consoling a friend does not make their own grief worse. Driving a mate to day surgery doesn't make caring for their own loved one harder.
Studies have clearly shown that helping other people makes us feel good. Most of us would rather give than receive. And that includes those in need – carers, those who are depressed or grieving, and those who simply have a lot on their plate. If you ask for help, they can always say no if it doesn't suit. But don't leave them feeling even more isolated by avoiding the question.