Here's a little taste of what you can find in each book….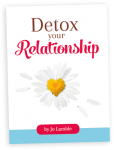 My new book is for anybody who wants to improve their relationship. Maybe the spark has gone and you're more like flatmates than lovers. Perhaps you envy your single friends and fantasise about starting a new relationship with someone else, but you'd never leave. Or maybe you've just started seeing someone and there's a worrying issue that may be a deal-breaker. Whatever your situation, before you make any decisions, try my relationship detox program. You'll learn how to stop the game-playing and indirect communication. You'll discover how to enjoy the benefits of adding a touch of empathy to your relationship. You'll find out whether you're too dependent on your partner or if your outside interests are in danger of destroying what you have. Detox your Relationship is full of tips and strategies, case studies and scripts to clearly demonstrate how easy it is to start enjoying the closeness you've been craving.
To download a digital copy or order a hard copy, simply go to detoxyourrelationship.com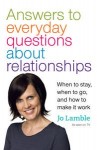 This book does what the title suggests – it provides the answers to the questions I get asked everyday by the individuals and couples I see. It looks at the different relationship stages, beginning with dating & commitment, before tackling the most common issues couples face. I also look at how to address individual problems that affect relationships such as addictions, mental health issues, and the dreaded mid-life crisis. Deciding if or when to leave a dysfunctional relationship is one of the hardest decisions to make, especially if there are children involved. I have tried to provide tips for how to handle such a difficult decision and how to move on after a relationship breakdown.
Answers to Everyday Questions to Relationships is published by Penguin and is available in most book stores.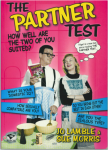 The Partner Test: How well are the two of you suited? (Jo Lamble & Sue Morris) – We don't claim to predict which relationships will go the distance and which won't. But we believe you can increase your chances of success if you choose well, commit to each other, challenge any unhelpful thinking and behaviour, confront issues as they arise, and then cross your fingers. We have created 20 tests for you and your partner to complete. The tests are designed to get you thinking and talking.
To purchase a copy of The Partner Test, email me at contact@jolamble.com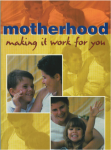 Motherhood: Making it work for you (Jo Lamble & Sue Morris) – The role of mother is changing dramatically. Who a mother is, is now less narrowly defined. She can be a mother who also happens to be a surgeon, a teacher, or the owner of a small business. She might be a mother who chooses to stay at home. Because women have more personal choices these days, each mother has to decide what works for her.
To purchase a copy of Motherhood, please email me contact@jolamble.com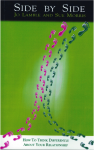 Side by Side: How to think differently about your relationship (Jo Lamble & Sue Morris) – In the beginning of any relationship, you live in the bubble of new love where the outside world is shut out and all you care about is your relationship. After the bubble pops, you slowly let in the outside world, and start making plans for the future. Ideally, you then enter into a mature relationship with love, intimacy and commitment. This mature relationship needs to survive the ups and downs and, of course, the ruts. The aim of this book is to help you to understand the nature of commitment and to identify potential problems in your relationship and provide strategies to help you deal with those problems.
To purchase a copy of Side by Side, please email me contact@jolamble.com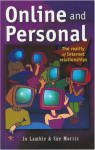 Online and Personal: The reality of Internet relationships (Jo Lamble & Sue Morris) – We discuss the impact the Internet is having on people's personal lives. We look at those whose existing relationships are being threatened by Internet liaisons, online dating, online addictions, and what needs to be done to keep our children safe online.
To purchase a copy of Online and Personal, email me at contact@jolamble.com