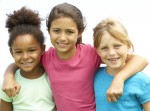 I have just heard about a fabulous new initiative that is being launched this weekend. It's called Kids in Philanthropy and it's aim is to get kids helping other kids. It's the brainchild of Dr Catriona Wallace (and her two children), who quite rightly says that teaching our children how to be compassionate and altruistic is the greatest lesson we can give them.
The aim of the fund is to create opportunities for children to fundraise and develop programs for children in the poorer suburbs of Sydney and Melbourne. They hope the initiative spreads nationally. The group's first project is a Technology and Learning Program for 8-12 year olds in Fairfield, Sydney. Children who may not have had access to technology, music, art and sporting programs will get the chance to have those experiences.
Most parents complain that their children are spoiled and materialistic. Many parents look for ways to show their children that they are more fortunate than others. Kids in Philanthropy is a way for children to not only appreciate what they have, but more importantly, to learn to give to the less fortunate. And as a lot of research has highlighted, altruism and compassion are the keys to happiness.